About DJ Rob Williams
This may sound cliche' when I say this but I'm going to say it–  I was born to do this.  As a business professional with an undergraduate in Business Management and a Masters Degree in Organizational Business Development, I built my reputable business realizing several factors and it includes listening to my client, build upon creativity and innovation, and reassure my client success through planning.
You can easily connect my background to the 1950's when my Grandfather was a famous musician on the Hawaiian Islands.
Music has always been my passion.  My music style is extremely extensive ranging with almost every genre you can imagine.  Researching and learning different genres I believe is an important element in becoming a well-rounded DJ that gives me an "edge" against my competitors.
A successful event takes the right ingredients and at the top of this list is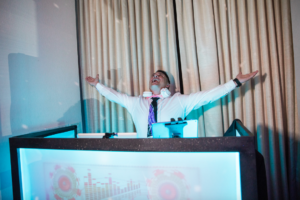 proper planning!  Relationships are important to me, so expect me to get to know you, understand you, and put you first.
With a goal in mind, it is 100% satisfaction with clients.   My passion has returned a humbling referral system that keeps me extremely busy and engaged throughout the year.
My reward is your smile.  The enjoyment of watching a successful event and leaving customers happy is the ultimate high for me and it keeps me coming back for more.  Our first visit together you will see my passion.  My commitment to you is sincere.
Please browse more to learn more About DJ Rob.